The Junk Drawer
"It's in the Junk Drawer". A phrase well known to the Ostrowski family growing up in the sardine-can style suburbs of New York. Located adjacent to the kitchen sink, on the left hand side, it was filled with everything under the sun. From dulled pencils to broken tape measures, from loose coins to depleted batteries, items not belonging to any particular group having functions all their own, abandoned and left for future reawakening. If you couldn't find it, it was probably in..."The Junk Drawer".
Andrew Ostrowski.com is pleased to offer the re-emergence of the infamous "Junk Drawer", here presented in an ever-so-slightly different shade of color.
Note: Items in The Junk Drawer reflect the independent view of Andrew Ostrowski.com and do not necessarily reflect the opinions of other past and present household drawer users. Map indicates approximate location of The Junk Drawer.


Archie Bunker

Growing up in everybody's living room it seemed, the All in the Family sitcom star was a sit-down favorite for many household T.V. sets. Why was he so popular? He seemed to represent your typical next door neighbor didn't he? Full of bigotry, racism, ignorance, and selfishness. Or was it you that he was representing? Archie Bunker dug deep down into our own selves and made us realize the kind of people we really are. The audience always laughed at his remarks; was that because it's funny to condemn someone because of their skin color or religion as he did? Were we agreeing with him then, as we responded humorously to his selfish wit and stuck-up attitude? Or were we laughing because Archie Bunker publicly uncovered what many people, deep down in the bowels of their souls, secretly think? Perhaps the latter explanation is correct. Contrary to the opinion that the sitcom was a racially bigoted and destructive show, in actuality All in the Family was a brilliant attempt at exposing our own "true colors", even though we might deny it, if only to make us aware of our own stupidity.
---
Election 2000

November 7th, 2000, CBS news' Dan Rather reporting the state by state count, Bush in red, Gore in blue, polls closing soon with exit polls indicating severe close calls in several states, New York in blue is confirmed by the veteran anchor with Pennsylvania swinging in the midst, will it go, will it go, Ohio for Gore, Ohio for Gore, the all-important Gore home state of Tennessee has reversed itself, Bush wins Tennessee it is exclaimed, Missouri, Missouri, the crucial psychological edge state never failing to vote a winner is now in red with Michigan going blue, suddenly standing solo among its brethren is New Mexico going for the Vice President, close, wait, too close to call, the Governor wins Texas, Texas for Bush, CNN's Candy Crowley reporting from the Governor's mansion anxious tension inside, the all-important state of California awaits, many many electoral votes are up for grabs, then the news, California for Gore, California in blue, Gore surges ahead, Oregon too close to call, then, then, Dan Rather indicating to viewers the electoral map now showing Florida in blue, yes Florida for the Vice President, it is confirmed, Florida now in blue, Gore closing the gap needed to reach 270 electoral votes to win the Presidency, Oregon the focus in a see-saw spotlight, Maine reports that three out of its four precincts are for Gore, Maine goes into the blue with the Bush summer home in Kennebunkport, reports of the Vice President preparing a victory speech amid caution as reported by CNN White House correspondent John King, hold it, wait a minute, announced from the CBS anchor, Florida comes out of the blue and is simply too close to call, the Governor encroaching on the Vice President's lead, now it has come down to this one state, if Gore can carry Florida, if he can carry the state, if, Palm Beach County Canvassing Board reporting problems with the butterfly ballot, Dade County the same, Florida Board of Elections requires inspection of the butterfly ballot, hand recounts are deemed necessary, committees of Republican and Democrat observers are called in to determine the intent of the voter, hanging chads, dimpled chads, pregnant chads, indentations, time ticking away, too many close calls, too many disputes, no clear cut ballots, chads carpeting the floor of the precincts, enough, Democrats urging the Canvassing Boards to request an extension to the Legislative deadline, Florida Secretary of State Catherine Harris considering the request upon justifiable proof in writing faxed to her office in Tallahassee by 10 am the next day, Harris then rejecting the extension finding no credible proof in writing, attorneys for the Gore team filing suit with the circuit court, extension granted, Bush team filing counter-suit with the Florida Supreme Court, action denied by a vote of 4 to 3, Dade County Canvassing Board stunningly announced that it is ceasing all recounts, ceasing, with no way to finish by the new deadline, Democrats accusing the Republicans of staging a violent protest to influence the Board, the Board denies it, the Governor appealing to the United States Supreme Court to stop the recounts immediately stating they are producing subjective conclusions by predominantly Democratic Canvassing Boards, U.S. Supreme Court immediately stopping the recount, sending the Florida Supreme Court decision back to them to re-evaluate, Vice Presidential candidate Dick Cheney checks himself into a Washington hospital suffering a mild heart attack, circuit court judge Samuel Sauls hears an argument brought by the Gore team that all the votes should count, Sauls orders the entire collection of disputed ballots be presented in his court in Tallahassee driven there by a yellow Rider truck now on public auction for $35,000, Sauls inspects the ballot machines finding no reason for recountsss(s), Gore devastated by the decision and appeals, Florida Supreme Court granting an extension, Republicans accuse Democrats of offering cartons of cigarettes to homeless people in exchange for their vote, Democrats accuse Republicans of directing Florida police to set up road blocks preventing African-American voters from reaching the polls, Harris citing a breach of Constitutional law requiring the Secretary of State to have authority as chief election overseer, Saturday Night Live revealing that Gore spokesman Warren Christopher is Nosferatu, the Vice President announcing at 9 pm to the public via television that he will agree to an all-state recount in every county to determine the President and to count every vote, count every vote, Bush appears at 10 pm and rejects the Vice President's offer, stating that every vote has been counted, and recounted, and recounted again, and in some cases recounted a fourth and fifth time, Gore refusing to count oversees military personnel ballots, Democrats cry foul, foul and accuse Republicans of filling in names of registered voters on absentee ballots, dismissed by two courts as serious but not serious enough, Bush begins to form his Transition Team, Clinton refusing to give Bush the keys to the Transition Office at the White House, Bush once again approaches the United States Supreme Court with the colonial looking statesman Barry Richard offering an excellent case stating that allowing the ballots to be counted by a committee is just as wrong as not counting them at all as the voters who cast the disputed ballots would be in effect having their intention be determined by another, illegal, the Vice President's men arguing that indeed every vote must be counted some how, but how argues back the select few on the high seats, the Bush team claiming equal protection rights have been violated, the Gore team squeezing the orange more and more, it's decision time for everybody as the entire country called in sick for work and literally glued themselves to the television, 2 pm, 3 pm, 4,5,6,7,8,9, finally, CNN's Charles Bierbauer receiving a copy of the decision on the steps of the U.S. Supreme Court building, all eyes on him as he suggests taking a break so he can read the multi-multi paged decision, no break replies the anchor, Bierbauer sweating it out in sub-freezing temperatures flipping the pages trying to make heads or tails on the judges writings, the decision is read, back to Florida we go, in effect as predicted, the big court cautiously avoiding state politics, but clearly sending a message, Florida must certify their votes by the required deadline and can proceed with a recount, however that deadline was in 3 hours in keeping with Legislative law, the Gore team's attorney Lawrence Tribe admitting that Gore has lost, CNN's John King receiving a message on his beeper from the Gore team that a statement by the Vice President will come in the morning, Bush spokesman James Baker announcing to the press a two-liner, obviously allowing the Vice President to come through with his statement in the morning, morning arrives with Gore in the presence of his family stating that just minutes ago he spoke with Bush and congratulated him on becoming the 43rd President of the United States, and though he strongly disagrees with the Supreme Court ruling, he accepts it, he accepts the finality of it all, he will return to his betrayal state of Tennessee and mend some fences figuratively and literally, that it was time for him to go, Bush soonafter addressing the nation in a hopefully convincing manner, Dan Rather now gone gray, CNN's Spin Room having a field day(s), everyone in awe... You spent a total of 126 hours watching election coverage television, will the government reimburse you for your electric bill?
---
Cafeteria Catholics

"Do you want to go to heaven?" If asked, the average street corner Catholic Joe would automatically say "Yes". Let's continue our questioning. "Do you go to Mass?" "Yeah, I go, now and then whenever I feel like" says Joe. "How important is the Eucharist to you?" "Youkarist? What's that?" he inquires. "Oh I know, you mean the round white thing they give out" he adds. "Yeah, I think I got that when I was little" he reflects. There's not enough room on this page to continue our discussion. Yes, it's that bad. We say we are "Catholic", yet we practice what we want. Only 30% of "Catholics" go to Mass, 12% receive Confession, 83% practice contraception, and 91% of Matrimonials never return to the altar. How can we claim to be Catholic while picking and choosing what we like from our supposed faith? Yet we still believe we can disobey the rules of the Church and we will go to heaven, as long as we're a "good person". Ah, but weren't those Romans cheering the deaths in the Coliseum also good, amicable people, friendly to their neighbors? You simply cannot merely be a "good person" and expect to get to heaven. Why not? Because human nature is weak and succumbs to temptation. We need to opt for the "full course menu" at our Catholic Cafe, being fully engaged in the Church, to counteract this fact. Perhaps the average street corner Catholic would be better to respond with a percentage of their faith. What is your percentage?
---
Illegal Drugs

Yet another "bust" made the front page of your local newspaper. Cocaine, marijuana, ecstasy, heroine, LSD, and a host of other "evil substances", as we like to refer to them as, continue to break headlines in the all-out war against these cripplers of our society. How true this is. Despite our best efforts at curtailing these addictive drugs, they continue to seep through the cracks and take over the lives of our people. But do we discriminate or are we just plain stupid? Does anybody, anywhere, realize that caffeine, alcohol, and nicotine are actually more addictive, widely available, and in the long run wreak more havoc on people's lives than the so-called evil substances of the drug classification? The fact that there has been absolutely no control over these substances has created a long term addiction over centuries in time. But, we can do virtually nothing about this colossal juggernaut. We like to make it appear that they are under control, using such solutions as caffeine free cola, out-patient counseling, and healthy lung propaganda. The truth is, these everyday substances are the real cripplers.
---
Got Car?

How many of you can park your own car in front of your own house? Unbelievably, parking spots are fast becoming an endangered species. Everybody seems to have a car these days. Your neighboring house a few doors down has three families living in the SFR (Single Family Residence - now, there's a misnomer!). Each family has two cars. That makes six cars assigned to that one house. Coupled with the fact that they're probably illegal immigrants working in some indiscreet auto shop at odd hours, the parking spot in front of your house can at any time of the day find a beat up pick-up truck with paint smears on it. Not to mention your neighbor a few doors up, who's illegally made driveway and self-constructed curb to accommodate, now prevents any cars from parking where the city code allows them to rightfully park. Let's not forget too your neighbor across the way, whose backyard resembles a used auto lot. The poor backyard; all the trees were ripped out, grasses and shrubs uprooted, and the entire space poured in blacktop. Cars come in and out, some left there to rot, and you with nothing left but a view of infernal junk. But even the "normal" among us have succumbed. It is not uncommon to find your average family of ma, pa, and three kiddies each having their own car. It's "necessary" of course for them to be able to drive to the corner deli.
---
Zoning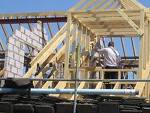 Have you ever wondered why your home and property are so small compared to your neighbor's? How can that be, as you live side by side, surely what's allowed for him is allowed for you? Enter the zoning cheat. Where is it written that anybody can do whatever they want to modify the existing structure of their dwelling? Of course basic home improvement is certainly justifiable. You put down a new patio, or vinyl side your home, or even put up a swimming pool. Then one afternoon you hear some banging and booming. Glancing, you see what appears to be a new home being built up the street from you. Casually strolling over to get a closer look, the truth is revealed. No, it's not a new home, but an extension being built on top of a home's side garage which is nearly equal in height to the home itself! Can you believe this? It is in fact a true story. Fortunately one of the neighbors, a retired architect, alerted the homeowner, and, out of fright perhaps, the homeowner began deconstructing the illegal monstrosity. But that's a huge example. How about the smaller scaled illegalities? Did you ever see a two-tiered stockade fence? Homeowners like to place one atop the other for added privacy. It's illegal. Or how about a 4' off-the-ground patio deck made out of nice redwood so the homeowner can barbeque and jump into the 54" in-ground pool he dug out himself? Both are illegal.
---
Pizza

"You've tried all the rest, now try the best." How dare some pizzerias use this age-old motto and not deliver. And we're not talking about "delivery", we're talking about delivering the goods! Have you ever had a slice of pizza which tasted like Aunt Millie's on cardboard? And the cheese. Where's the cheese? It seems we have to order "extra cheese" topping in order to receive the standard cheese topping. Not to mention that they are probably using whey mixed in with the mozzarella to cut costs. And what about extra virgin olive oil? "Can you spare three drops please?" is what we feel like asking. Olive oil, specifically extra virgin, is essential in bringing out the best taste in pizza. Mixed with sauce, it creates an atmosphere for the mozzarella to thrive in once it reaches your palette. And if the slice of pizza you are eating does not have an olive oiled crust underneath, spit it out. An oiled crust in cornmeal is the proper holding vehicle for pizza. But let's not overlook the crust. Many pizzerias use bleached flour for their crust. Blah...the best pizzerias use unbleached pastry flour. You can easily tell by the slightly charred and burnt exterior, combined with an airy and chewy interior. And you might want to grow your own oregano, the principal herb in pizza, as many pizzerias fail to use enough.
---
Chlorine

Nobody likes a green pool. But does that mean you have to spend a fortune on chlorine upkeep? Yes. Ridiculously, the price for a season of chlorine can run you about $96. But hold it, chlorine is only as effective as the environment it's in, meaning you need to keep your Ph steady, about $27. And under a hot sun, you need an algaecide, not escaping you for another $26. And how can you add all of this unless you run your filter with diatomaceous earth? Chalk up another $35. Added incidentals include water and the cost for your hardware. "Ah ha!" you declare that you can save money by substituting laundry-type chlorine bleach for pool-type chlorine. Not so. It would take eight gallons of laundry-type chlorine to equal one bag of pool-type chlorine. But why is pool chlorine so expensive? Because the industry is essentially restricted to the summer months, and they know you can't use bleach. So, it appears we must either spend the money or...go green.
---
The United Nations

United? The United Nations (UN) is, on paper, supposed to be a collection of our world's nations brought together to mediate, govern, and rule on actions that are deemed either internationally consequential or blatantly destructive to an individual nation. The "police dog" of our world apparently may, for all intents and purposes, amount to nothing more than a security guard. Boasting an "army" of troops, the UN forces are theoretically supposed to keep the peace in times of turbulence and immediately enter a conflict meeting the above described actions. Where were the UN troops when Western Africa rival gangs and political overthrowers went on a rampage cutting hands and feet off of any one opposed to their regime? Where were the UN troops when Lebanon fired rockets into Israel igniting a massive defensive on the part of Israel, who couldn't counter-attack because Hezbollah forces were hiding amid schools and hospitals in cowardly fashion? Where were the UN troops when bands of renegades took to the dusty paths raping and torturing shanty-town inhabitants in Darfur, Sudan? It takes a longggg time to talk in "Old Entish" according to Treebeard in Lord of the Rings. Well, the UN must be using that scene for role playing, as all it ever seems to do at times like this is talk, talk, talk. Meanwhile, people are dying.
---
Snow

Snow, snow, snow, snow....snow! That famous tune from Bing Crosby's White Christmas is certainly catchy, so why do so many people hate the snow? Are we living in a bubble so much so that we cannot appreciate a change in the weather? Or perhaps we don't like to shovel the sidewalk, or take three extra minutes out of our busy day to don a pair of boots, or leave a little early for the supermarket on account of the plowing? We seem to instinctively associate a snowfall with trouble. Yes, we are living in a bubble. Instead, how about stepping back and realizing that our fast paced, fast food, auto-everything society is part of the cause for so much unhappiness. When was the last time you sat by an open fireplace reading a book in the tranquility and serenity of a peaceful evening as snow flurries tapped on your windowpane? Gone are the days of yesteryear, when a snowfall necessitated this, and we were lucky it did. Is it no wonder then that 98% of our history's most introspective "thinkers" are nearly extinct? Maybe we should welcome the snow, if only to re-realize, put things into perspective, and think.
---
Stephen Hawking

The heir-apparent of Albert Einstein? Not so fast, not so fast. Hawking, the revered and highly esteemed intellectual genius of theoretical physics and cosmology, was recently interviewed by The Guardian newspaper. As the questioning and answering began, it soon became clear and quite apparent that this frail figure of a man was head-over-heels an absolute brain. Hawking, as you may know, is also paralyzed and confined to a wheelchair. This is rather unfortunate and we most certainly empathize with him. He was rolling out responses of sheer brilliance, talking about astronomical concepts we never imagined, clearly indicative of an individual having a very high IQ. But did you ever see a stock market chart? It peaks and peaks and peaks...then it crashes. And that's exactly what happened towards the end of Mr. Hawking's interview, when he was asked: Do you believe in Heaven? And Hawking's response: "There is no Heaven or afterlife, that is a fairy story for people afraid of the dark." Unbelievably, here is a man who stands out as probably our world's most brilliant intellect. You would think that such an intellect, given the history of Man with all its activity, philosophy, paranormal apparitions, apostolic movement, Old and New Testament Biblical accounts, independent historical record, and sheer inquisitiveness over what life is, being that life is still a mystery, which clearly to even the most advanced minded did not seem to come about by mere chance, would entertain the idea of a God and a Heaven. But no, rather than posing the question and considering the possibility, this gentleman's downfall is that he definitively says there is no God and no Heaven. And therefore, Mr. Hawking is actually not so intelligent after all.
---
Grand Slam

The Grand Slam. The ultimate prize in all of golf. All you have to do is win the Masters, the U.S. Open, the PGA Championship, and the British Open, all in one...the word is year. No it's not, the word is life. Wait a minute, do you mean to say that a player has the opportunity to be merited as a Grand Slam winner as long as he/she wins those four biggies anytime during their career? Yes. And that, golfing aficionados, is ludicrous. It used to be that a player could only be crowned a Grand Slam winner if the player captured all four majors in one season. This was heralded as the crowning achievement in all of sports. A near impossibility, accomplished by an individual who would then be deserving of the title. But what happened, has the sport become watered down? Today, the Grand Slam title goes to any individual who wins the four majors over the course of their career. Just like everything else it seems these days, golf too may be more about show and dough than merit and accomplishment.
---
2 x 4

You are all set to build a picnic table for your backyard. You design the plan, sharpen your circular saw, and pick out the color. You take measurements and go to purchase the lumbar, only to be confused at your local distributor's labeling description. 2x4x6 SYP $2.85 2x3x8 SYP $3.00. "What?" you declare. The designated stock does not match the description. Your tape measure indicates the stock to measure exactly 1 1/2 x 3 1/2 x 6 and 1 1/2 x 2 1/2 x 8. The lengths jive, but the heights and widths do not. A sales associate informs you that 2x4 in the lumbar world really means 1 1/2 x 3 1/2 . What happened to a 2x4 measuring 2x4? Lumbar constructed before 1950 will find authentically real, heavy gauge 2x4's being used. But today's lumbar seems like you can hold it over your knee and crack it, cheaply fabricated, and full of knots. And you'd be lucky to find an unwarped one in the stockpile. So as you build your backyard picnic table, remember that old American tune. How does it go? "...Baseball, hot dogs, apple pie, and a false 2x4."
---
Hoarding
Hoarding is defined as: The excessive acquisition of possessions even if the items are worthless, hazardous, or unsanitary. Truly a peculiar "sickness" as we have come to believe. Hoarders are known to pile up everything including the kitchen sink, and many times this pile is actually in the kitchen sink. The recent television broadcast series featuring various real-life hoarders around the country certainly makes for an interesting, and often times, unbelievable actuality. Nevertheless, the typical hoarder feels no shame, guilt, or problem with their unconventional lifestyle. One woman had a collection of over 1000 pocket books piled on her dining room table. Another had a closet full of pet feces, simply because there was no way to access the garbage can due to the amount of junk in the way. The solution? Send a team of "normal people" in there to basically throw out 99% of the hoarder's load. Yes, it is true, hoarding is a sickness, but did anyone ever stop to consider another factor? It has become quite evident, simply from watching multiple episodes of this show, that hoarders appear to be filled with a strong emotional love of memories. A hoarder has the uncanny ability to remember precisely what significance an item has which had been buried under hoarding rubble for years. In almost poetic fashion, a typical hoarder will recite its entire history. And what does this tell us, that they possess excellent long-term memory retention? No, this is clear evidence that those classified as hoarders have a stronger sense of sentimental bonding. Apparently the television show's "Psychologist" is so geared to instantaneously removing this sickness and reconstructing the hoarder's life that this sentimental aspect is overlooked. Why is this country so bent on moving ahead, leaving our past in the dust, and fixating on perfection? How about considering that addictions and sicknesses are part of people's lives and should be given ample consideration? Do you suddenly take a cigarette away from a 90 year old chain smoker because it's bad for their health? Or the old man with the hunched back, do you bring him to a chiropractor and try to align his spine to the ideal position? Immediately removing a hoarder's possessions, as unhealthy as they may appear to be inflicting, is actually worse than allowing them to remain. In effect, since these possessions, for all intents and purposes, constitute the life of the hoarder, you are in effect taking their life away. It's no surprise then to see hoarders uncooperative and intensely opposed to this barrage of immediate "normality". Rather, one should understand that emotions such as sentimental bonding, even though hidden, weigh more heavily in our lives than the "rational" aspects we live by.


---
Conquistador of Mexico, The Zulu and the Navaho, The Belgians in the Congo short memory
Plantation in Virginia, The Raj in British India, The deadline in South Africa short memory
The story of El Salvador, The silence of Hiroshima, Destruction of Cambodia short memory
Short memory, must have a short memory
The sight of hotels by the Nile, The designated Hilton style, With running water specially bought short memory
A smallish man Afghanistan, A watch dog in a nervous land, They're only there to lend a hand short memory
The friendly five a dusty smile, Wake up in sweat at dead of night, And in the tents new rifles hey short memory

If you read the history books you'll see the same things happen again and again
Repeat repeat short memory they've all got it

When are we going to play it again, Got a short, got a short, got a short, got a short, They've got a short, must have a short, they've got a short, aah Short memory, they've got a.
-Words/Music by Midnight Oil
forgetfulness: neglectful or heedless failure to remember; careless omission; tending or likely to forget; bringing on oblivion; forgetful slumber; failure to bear in mind; inattention

This section of AndrewOstrowski.com is intended to recall mankind's unfortunate inability to learn from its mistakes, thus continually repeating them due to its apparent...short memory.
WATERGATE>THE BREAK-IN>THE DENIAL>THE ADMISSION OF GUILT...short memory must have a

AMERICAN INDIAN>COLONIZATION>IMPERIALIZATION>RESERVATION>SUICIDE...got a short got a short

CORTEZ>CHRISTIANITY VIA MACHETE>MASS AZTEC ANNIHILATION...must have a short

O-RINGS>ENGINEERS SAY NO>POLITICIANS SAY GO>SPACE SHUTTLE BLAST-OFF>7 DEAD...they've got a short

EARTHQUAKES>PUMP OUT THE OIL>FRICTION>CATASTROPHE...play it again

CHRIST ON THE CROSS>SACRIFICE>FORGIVENESS>WE STILL WON'T LEARN...short memory must have a

2+2=5>NO HOMEWORK>POOR PARENTHOOD>FAILED GRADES...got a short got a short

FAT KIDS>POTATO CHIPS/HOT DOGS/24 HR VIDEO GAMING>40 YEAR HEART FAILURE...must have a short

THE ELDERLY>WRINKLED>SITTING ON A PARK BENCH>SOLITUDE>MEMORIES>FORGOTTEN...they've got a short

TYRANNY>SEE NO EVIL/HEAR NO EVIL/SPEAK NO EVIL>OUR SUBMISSION>MAN VS. MAN...if you read the

CANCER>$100 ZILLION OF RESEARCH>FRACTIONAL DISTILLATION & FD&C YELLOW #5>NO BRAIN...history books

O3 LAYER DISSOLVING>CFC'S>DIESEL FUMED TAILPIPES>ANTI-PERSPIRANT SPRAY>UVA-B-C...you'll see the

DARFUR>OPEN RAPE>OPEN MURDER>WE SIT AND TALK TALK TALK>NO ACTION...same things happen

HUNGER>SCRAPE YOUR PLATE>GLUTENY>FOOD WASTE>FAT BELLIED CHILDREN AND SICKNESS>DEATH...again

SLAVERY>CHURCH-GOING SLAVE OWNERS>CHAINS AND SHAKLES>NO JOHN BROWN D.C. MEMORIAL?...and again

DISCRIMINATION>1950'S "WHITES ONLY" WORDS>2011 "WHITES ONLY" THOUGHTS>0% IMPROVEMENT...repeat

A BOMB>END A WAR>QUICK SOLUTION>INNOCENT WOMEN AND CHILDREN DEAD>NO REMORSE...repeat

SOMALI PIRATES>STARVING AND DESPERATE>SHOT DOWN TRYING TO SURVIVE...short memory they've all

DEATH PENALTY>STRAPPED IN LIKE WILD ANIMALS>INJECTED>DONE>STUPIDITY'S FINEST HOUR...got it

COLISEUM>CHEERING DEATH SPORT>LIFE'S MEANINGLESSNESS>HAVE WE CHANGED?...got a short

GENOCIDE>CALCULATED SOLUTION>EXPONENTIAL EVIL>ASHAMED TO BE HUMAN...got a short

IMPEACHMENT>TAKE AN OATH>TELL A LIE>MORALITY AND ETHICS?>WHO CARES?...got a short

DEFORESTATION>RAPE THE EARTH>CRUNCH ANOTHER HOME>ECO-UNBALANCE...got a short

OIL SPILL>HEAT THAT HOME>DRIVE THAT CAR>KILL THE PLANKTON...they've got a short

WAR>BANG BANG>I ME MINE...must have a short

HOMELESS>PASSERSBY PASS BY>GOT A DIME?>MAN'S INHUMANITY TO MAN...they've got a short

CROP DUSTING>PESTICIDES>HERBICIDES>FUNGICIDES>MMM, TASTY...must have a short

PRESCRIPTION DRUGS>POP A PILL>POP ANOTHER>AND ANOTHER>SUM SOLUTION...ahh short memory

ABORTION>STOP A HEARTBEAT>SAVE A DOLLAR>INSTANT MURDER...they've got a.